Composite Microwave Filters
Learn everything you need to know about composite microwave filters!
The Quantic Corry team loves sharing knowledge with our fellow electrical engineers. That's why we have just developed a new comprehensive guide we think you will find interesting and helpful. If you are in need of high-quality composite cavity RF filters, we can help! We have a complete line of these filters in stock, ready to ship.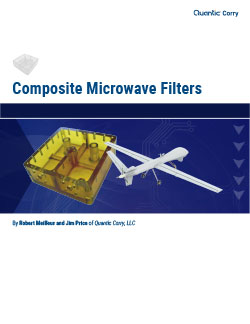 Our guide, Composite Microwave Filters, is completely FREE and full of great information, including:
The challenges faced when developing these types of filters
How to reduce the weight of any filter
The benefits of using our brand of composite cavity RF filters
The composite material used by Quantic Corry
Download your FREE copy now.
Featured White Paper Products
Call us with your questions at
724-940-7556, ext. 138
Composite Microwave Filters
Download Now
It looks like Javascript isn't enabled in your browser. Please enable it in order to fill out this form.
It looks like Javascript isn't enabled in your browser. Please enable it in order to fill out this form.

Obsessed with Service
Exceeding Expectations
Relentless in Performance
With Indispensable Innovation
...for over 40 years.