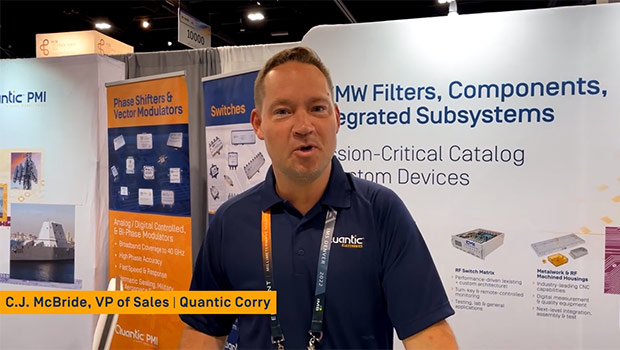 Quantic Corry Shares Top RF Products for 2022
VP of Sales, CJ McBride provides a quick tour of the RF product line including: waveguide transitions, high power diode switches, custom RF power amplifiers, precision manufactured housing and more live from IMS 2022.
Microwaves & RF Quick Chat with Quantic Electronics
Microwaves & RF Senior Editor David Maliniak recently interviewed Jeff Hassannia, Chief Growth Officer at Quantic Electronics, and took a deeper look into the mission of the company and how they're bringing together RF, microwave, capacitors, resistors, magnetics, sensing devices and more under one roof. Learn how Quantic Corry fits into it all.
First True High Power Broadband Switch
At IMS 2019, Quantic Corry (formerly Corry Micronics) shared the industry's first true broadband (2 – 18 GHz) high-power switch with speeds of 50 nanoseconds and a small form factor for increased design flexibility. Quantic Corry's Todd Peterman talks us through the innovative switch design in this 1 minute video.
High Power RF Switch Considerations
Don Pavlek discusses design considerations for high power RF switches. Watch this video to learn more about peak power, the impact of switching speeds, how the switch is packaged, and much more.
Ultra Lightweight Bandpass Filter
Director of Sales, CJ McBride highlighted our incredibly lightweight microwave bandpass filters at IMS 2016 trade show. Watch the video to learn more about how it works, and what it can mean for your next application with challenging weight restrictions.
RF Filter Design And Selection Considerations
In this video, Jim Price, VP of engineering with Quantic Corry, discusses the considerations design engineers should consider when selecting and/or designing a filter, as well as how to use filters to combine different RF bands onto a common channel commonly known as diplexing signals when combining two separate frequencies and multiplexing when combining more than two frequencies in an effort to save on cabling and/or the number of antennas in the system.
High Performance In Hard-To-Do Microwave Components
Bob Meilleur gives us a glimpse into some exciting product developments at Quantic Corry (formerly Corry Micronics). These include power dividers, RF switches, bi-directional couplers, cavity bandpass filters, and dielectric resonator filters.
New RF Switch Matrix Offering A 5µs Switching Speed
Don Pavlek took some time out during a busy day at IMS to show us a new RF switch matrix with a 5µs switching speed. Watch the video for information on its features and specifications to see if it might be a fit for your next switching application.
3-Channel LOW-PIM Attenuator
Quantic Corry's 3 channel, LOW PIM attenuator covers the 400 to 3000 MHz frequency range and has been specifically designed for major mobile access carriers who are attempting to measure or monitor passive intermodulation distortion/interference in communications systems.